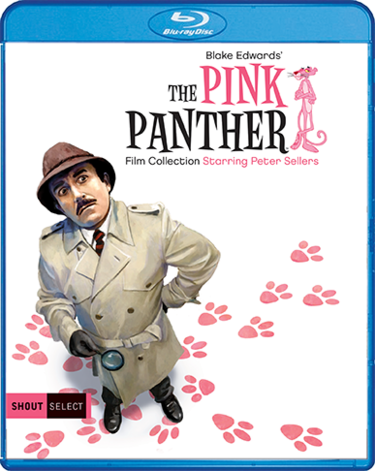 Reissues of vintage films rarely can be considered "new," but Shout! Factory's June 27 release of The Pink Panther Film Collection Starring Peter Sellers (how's that for a meandering monicker?) does have firsts.
Among them: This is a complete box set of all six films featuring Sellers as inept police Inspector Jacques Clouseau — unlike a 2004 set missing 1975's Return of the Pink Panther due to rights issues. Also, it's the first time the six films all have been issued on Blu-ray. And, there are ample new extras scattered across the discs, from interviews to commentaries.
As for the films, if you've seen them, you still haven't seen them as handsomely as in these crisp versions. But then, the bigger question is, are they worth it?
For me, the franchise's glory days were its first two films in the early '60s: The Pink Panther and A Shot in the Dark. That era's melding of "Oh behave!" modness and sleek modern sophistication was spot-on for tales of jewel thieves, lovely women, comic misadventures and then-prevalent animated titles sequences.
For the first film, Clouseau was part of an ensemble headed by David Niven in a caper comedy about the stolen jewel of the title. Bumbling Clouseau then became the chief focus in A Shot in the Dark and every other film afterward which co-opted the "Pink Panther" name while having little to do with the original's plot.
Indeed, many have played the inspector, but none so adroitly as the inspired Sellers, which is why this collection is all about his Clouseau films with director and writer Blake Edwards.
But as they say, leave 'em laughing. And for me, their revival of the character starting with  1975's Return simply extended a one-joke premise: The absurdly overconfident Clouseau would trigger crazed slapstick melees, then somehow survive and prevail through dumb luck. And so on.
To be sure, such physical humor is often quite creative and is masterfully staged. But there's more to mirth than that — which is why I particularly enjoy one thing about Clouseau that's rarely mentioned (sort of like Jimi Hendrix not being known as a great singer, even though he was): his accent.
Sellers didn't use a special accent in the first film, but by the second he'd become a warped warbler of French sounds. A "bump" on the head became a "beemph," and so on. That kept me chuckling as much as the umpteenth replay of Clouseau's sudden training battles with assistant Cato.
I've also enjoyed how the later Clouseau films thematically became "Torturing Inspector Dreyfus," as Herbert Lom suffered mightily at the hands of his former underling. After all, it's a grand entertainment tradition that I've enjoyed since TV's original Dennis the Menace became, in effect, "Torturing Mr. Wilson."
I'm also immensely fond of the great Henry Mancini's jaunty, jazzy music throughout the series — so '60s hip yet so sophisticated. And of course, the animated title character's romps are delightful — sort of like furry Roadrunner antics to whet our appetites.
And an appetite for fun is what you should have for this impressively packaged series of zany comedies. Don't think of them as repetitive, but as agreeably reliable.
So bon appetit! Or is that, in Clouseau-speak, "Gewdd Eatangg!"
— Bruce Westbrook